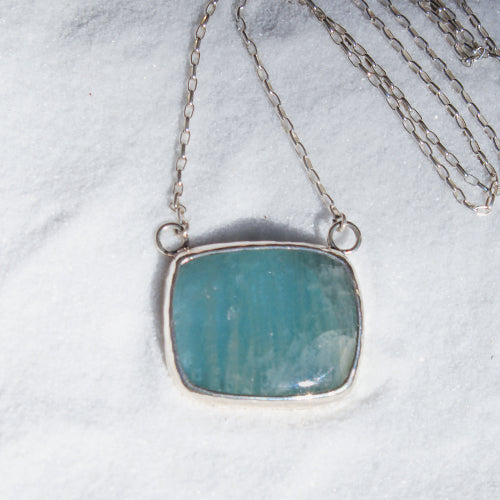 ALCHEMY NECKPIECE: Aquamarine
Design:  Alchemy Necklaces have a natural stone set in a hammered setting to reflect the light of the cosmos and illuminate the gem. An open back allows the gem to radiate against your skin.
Stone:  Natural & ethically sourced Aquamarine.
Material: Recycled Sterling Silver.
Length:  18" Sterling Silver chain.
 ONE OF A KIND & HAND CRAFTED WITH LOVE
AQUA-MARINE is a highly spiritual stone in the Beryl family with a purpose of Simplification ~ by calming,  soothing and inspiring trust one is able to take the simplest path of empowered action and expression. It stimulates, activates and cleanses the Throat Chakra so is particularily good for writers and public speakers or anyone needing assistance with tapping into the guiding light of simple truth in even the most mundane of activities.
In ancient times aquamarine was believed to be the treasure of the mermaids, today it embodies all things connected to the sea. It is a sacred stone to all the Gods & Goddesses of the Ocean as well as Ganesha, Saint Germaine & Archangel Raziel.
Simplification ~ Throat Chakra ~ Past Life Gifts ~ The Ocean ~ Voice ~ Courage ~ Speech ~ Trust ~ Expression