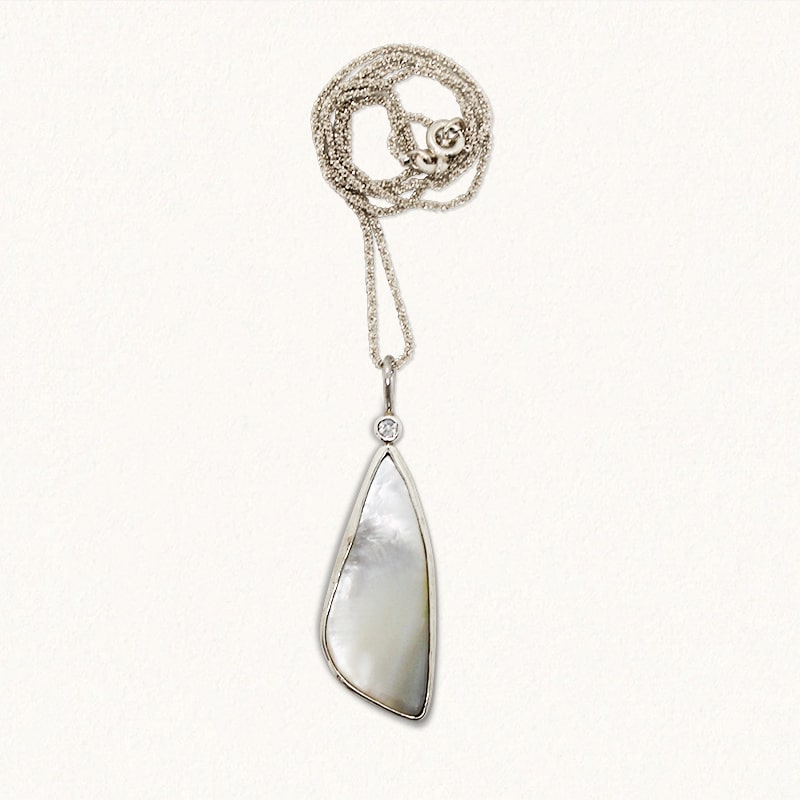 DROPLET NECKPIECE : Mother Of Pearl & White Sapphire
Design:  Drops of magic set with faceted gems designed to layer or as a more delicate statement piece. An open back allows the gem to radiate against your skin.
Stone:  Natural free form polished Mother of Peal set with a faceted White Sapphire.
Material:  Sterling Silver.
Length: 18" Sterling Silver chain.
ONE OF A KIND & HAND CRAFTED WITH LOVE
MOTHER OF PEARL is often used in mystical work & lore to heighten intuition, psychic sensitivity and imagination.  It's believed to offer soothing motherly protection from negative energy, to soothe a disturbed or broken heart and facilitate the easy flow of energy in body and spirit. 
All of the blues of the great Oceans are found within SAPPHIRE, so being drawn to this stone may be a sign you are being called to the cleansing energies of the ocean. It is one of the most famous gemstones on earth, sacred in many cultures around the world and one of the most revered 7 crystals of Lemuria. Sapphire carries one of the most calming & peaceful energies available in the mineral kingdom, and is the stone of spiritual truth. Truth is love and is acted on through the heart, with the clarity of wisdom. As a stone of higher communication it opens all of the communication centers, enabling psychic abilities, accurate intuition, and is a powerful stone of channelling. Through work with this stone, awareness of one's life purpose may present itself in such a way that the path to achieving it is made clear.