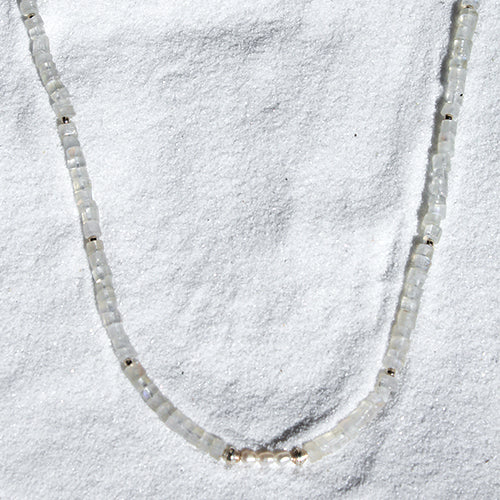 TEMPLE NECKLACE: Moonstone & Pearl - SILVER
Design:
  Temple Necklaces are exquisite beaded neckpieces designed to be layered and worn endlessly..
Stone:  This jewel features Rainbow Moonstone beading with Freshwater Pearls as the centrepiece.
Material: Sterling Silver beading & components.
Length:  17.5" with a 2" extension chain.
 ONE OF A KIND & HAND CRAFTED WITH LOVE
MOONSTONE is one of the most potent representations of feminine energy on earth. This magical stone is known as the wise Mother of the Earth, teaching the pure language of the feminine spirit. Moonstone embraces you on the path of compassion, nurture and motherhood. Where there was once turmoil and pain in the emotional body, Moonstone opens to the joy of emotion, shining light and leaving harmony and balance.
Moonstone is a very magical stone, and can also be worked with to speak to the Oceans, where it translates the voice of the Moon which we know as the tides, which are best heard at the point of change, the space of stillness. This gives an understanding of the cyclical nature of all things which activates freedom from attachment.
If Moonstone is calling you to it's shores, it's time to open your heart and feel. Many of us believe we already do this, but living in a constant emotional state is not true feeling, as it holds no mastery, discipline or understanding. Don't label, think, act or react, just feel. Just as things arise they fall away and we are able to surrender, express freely and be happy without attachment.
Mother Goddess ~ Divine Feminine ~ Emotions ~ The Moon ~ Lunar Energy, The Oceans ~ Cycles of Life ~ Emotional Release ~ Surrender ~ Compassion
PEARLS are highly iridescent and lustrous holding the beauty of the moon and the water in their silvery shimmer. They represent the ultimate source of wisdom through experience & also are strongly connected to purity. As a stone of emotion, they assist us in revealing our innate Divine Beauty as we learn to embrace our emotional journey here on Earth~ through total feeling we come to the present place where we realise there is nothing to be purified.
Together with Moonstone and Silver, Pearl forms a Sacred Feminine Trinity that helps us to re-connect with our sacred feminine which may have been lost at any stage in our lives. Pearl can increase intuition and can be worked with to learn the spiritual basis of sexuality and sacred union. It helps to balance hormones and bring a woman into alignment with the moon's phases. In Atlantis, Pearl was a stone of childbirth, as well as to spiritualise the emotions of the Heart Chakra (which we also need in this time on Earth). Pearl is also linked to Whales and Dolphins and Quan Yin.
If you are drawn to Pearl today - be patient and trust your feelings and allow the cycle you are in to come to its natural completion with full trust and no fear. Pearl also often appears to unlock the hearts of those who have gifts in the realm of healing children.
 In Buddhism, 'Divine Pearl', the jewel in the lotus- the 'mani' in the mantra "Om mani padme hum" -the "jewel that grants all desires". In Taoism its the 'flaming pearl' held in the mouth of the dragon, and in ancient Vedic texts pearls are considered the 'Daughter of the Moon' - Pearls were gifted by Krishna to his daughter on her wedding day after he plucked the first Pearl out of the ocean.

Purity ~ Innocence ~ Feminine ~ The Moon ~ Nature's Cycles ~ Divine Beauty ~ Fertility ~ Motherhood ~ Children ~ Hormone Balance ~ Whales & Dolphins ~ Quan Yin