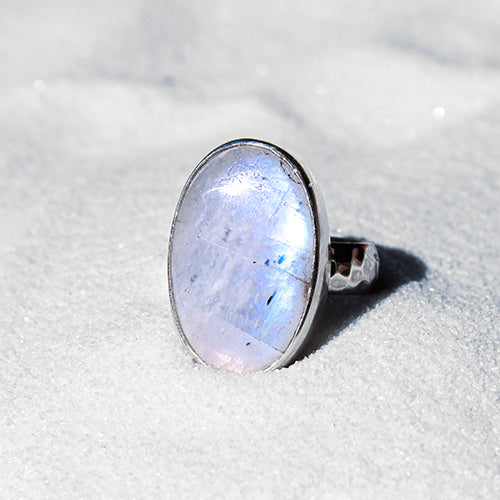 Design:  Set in a hammered setting to reflect the light of the cosmos and illuminate the gem, Alchemy Rings also have semi-open back to allow the gem to radiate against your skin & imbue the stone's energies.
Stone:  Natural & ethically sourced blue flash Moonstone.
Material:  Recycled Sterling Silver.
Size:  6
ONE OF A KIND & HAND CRAFTED WITH LOVE
MOONSTONE is one of the most potent representations of feminine energy on earth. This magical stone is known as the wise Mother of the Earth, teaching the pure language of the feminine spirit. Moonstone embraces you on the path of compassion, nurture and motherhood. Where there was once turmoil and pain in the emotional body, Moonstone opens to the joy of emotion, shining light and leaving harmony and balance.
Moonstone is a very magical stone, and can also be worked with to speak to the Oceans, where it translates the voice of the Moon which we know as the tides, which are best heard at the point of change, the space of stillness. This gives an understanding of the cyclical nature of all things which activates freedom from attachment.
If Moonstone is calling you to it's shores, it's time to open your heart and feel. Many of us believe we already do this, but living in a constant emotional state is not true feeling, as it holds no mastery, discipline or understanding. Don't label, think, act or react, just feel. Just as things arise they fall away and we are able to surrender, express freely and be happy without attachment.
Mother Goddess ~ Divine Feminine ~ Emotions ~ The Moon ~ Lunar Energy, The Oceans ~ Cycles of Life ~ Emotional Release ~ Surrender ~ Compassion