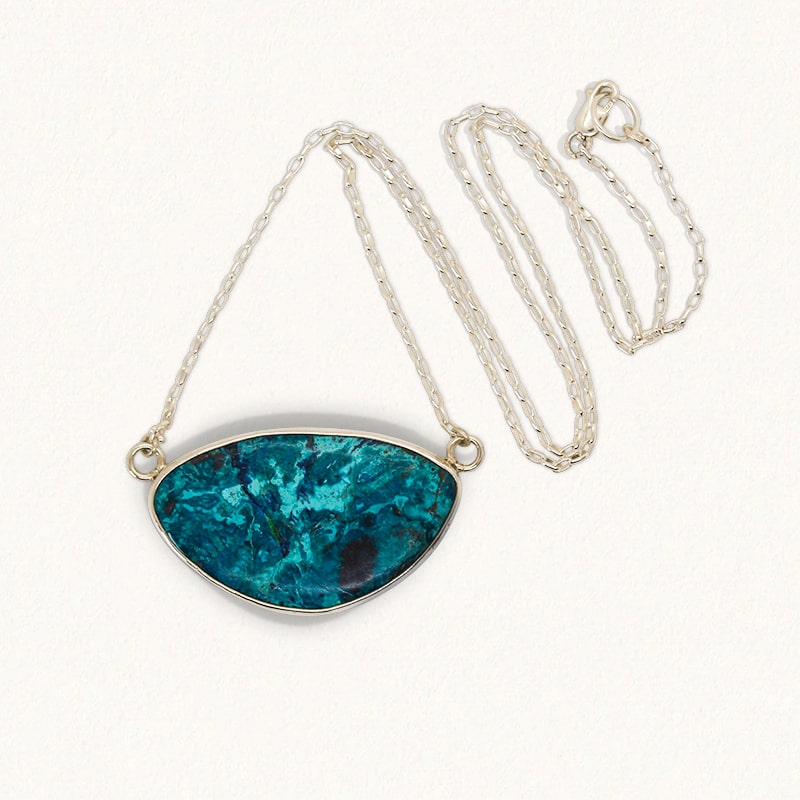 ALCHEMY NECKPIECE: Shattuckite Azurite
Design:  Alchemy Necklaces have a natural stone set in a hammered setting to reflect the light of the cosmos and illuminate the gem. An open back allows the gem to radiate against your skin.
Stone:  Natural untreated polished Shattuckite Azurite stone.
Material:  Recycled Sterling Silver.
Length:  18" Sterling Silver chain.
ONE OF A KIND & HAND CRAFTED WITH LOVE
SHATTUCKITE AZURITE is an alchemy of Azurite, Chrysocolla, Malachite and sometimes Copper, in Quartz. With such a potent combination of stone energies its highly regarded to work in the realms of intuition, physic ability & heartfelt communication. This copper silicate offers up clarity of the mind, heart, and throat, creating an ever strong communication capability that push for one to seek and constantly speak the highest truth. When working with this mineral, one will become very in touch with their mind, body, and soul, almost feeling as though they are one complete being. Your senses will become enhanced and you'll begin to notice how much more you can feel. Messages from our spirit guides and angels come in in the from of imagery, feel, and synchronicity. All signs point to a life full of enhancement, happiness and intuitiveness leading to endless inner peace. Due to the vast amount of psychic capabilities Shattuckite can activate and unlock, it is widely popular for any medium, channeller, or scribe.