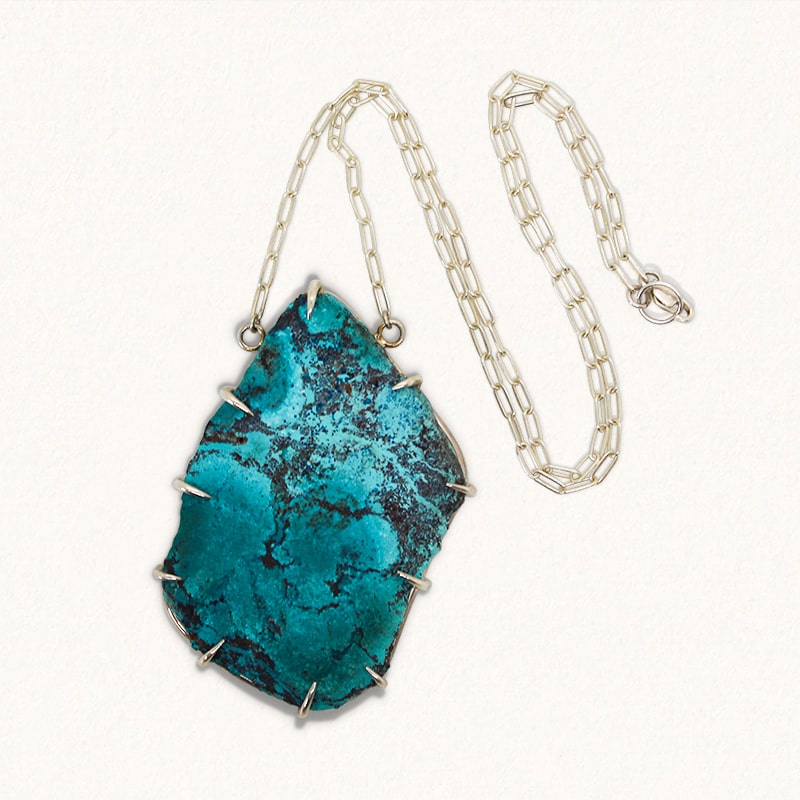 Design:  A luscious semi-polished slab with an open prong setting allowing the stone to radiate it's energy in all directions.
Stone:  Natural untreated semi-polished Azurite  stone.
Material:  Recycled Sterling Silver.
Length:  18" Sterling Silver chain.
ONE OF A KIND & HAND CRAFTED WITH LOVE
AZURITE holds more of the indigo colour ray than any other mineral on earth. This stone links the conscious and subconscious minds together and holds all of the characteristics of the indigo ray - wisdom, focus, mental ability, spiritual vision, psychic development and understanding of higher purpose. This stone uses the mental levels & its link to the higher self to transform hidden aspects such as fears into understanding. Hidden within this stone is also the Orange Ray - empowering all its activities with creativity, warmth and vitality. This links the sacral and third eye chakras together through the heart chakra allowing flow of energy and communication - Azurite is the keeper of this ancient wisdom which is powerful in Tantric practices. If you are drawn to this stone it may indicate there is something trapped in your subconscious that is being denied it's path of realisation and/or healing.