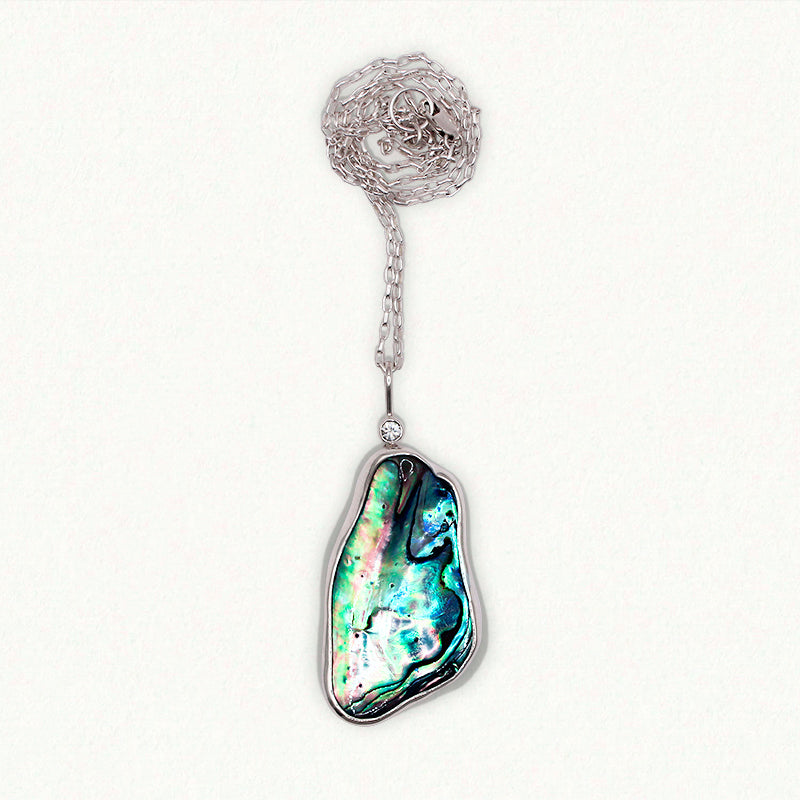 DROPLET NECKPIECE: Paua Shell & White Sapphire
Design: Drops of magic accented with dewy silver bubble accents & a faceted gem centerpiece. An open back allows the stone to radiate against your skin.
Stone:  Natural ethically sourced Paua Shell from NZ & a facteted White Sapphire gem.
Our Paua Shell is sourced as a bi-product & would otherwise be considered wastage. Our heartfelt intention is to honour it's natural beauty.
Material:  Recycled Sterling Silver.
Length:  18" Sterling Silver chain.
ONE OF A KIND & HAND CRAFTED WITH LOVE
New Zealand PAUA SHELL'S mantra is 'The beauty of Life'. It's energy is of the divine feminine and is soothing, comforting, strengthening & heart opening. It's thought to give protection through the changes and transitions in life and encourages one to realise we come out more beautiful - just as the Paua's irredescent colours are revealed through being tumbled by the sand & ocean floor.
Its also considered a sacred shell and was once reserved only for the Maori Princesses. It represents 'whetu' or the stars of our ancestors watching over us. 
All of the blues of the great Oceans are found within SAPPHIRE, so being drawn to this stone may be a sign you are being called to the cleansing energies of the ocean. It is one of the most famous gemstones on earth, sacred in many cultures around the world and one of the most revered 7 crystals of Lemuria. Sapphire carries one of the most calming & peaceful energies available in the mineral kingdom, and is the stone of spiritual truth. Truth is love and is acted on through the heart, with the clarity of wisdom. As a stone of higher communication it opens all of the communication centers, enabling psychic abilities, accurate intuition, and is a powerful stone of channelling. Through work with this stone, awareness of one's life purpose may present itself in such a way that the path to achieving it is made clear.