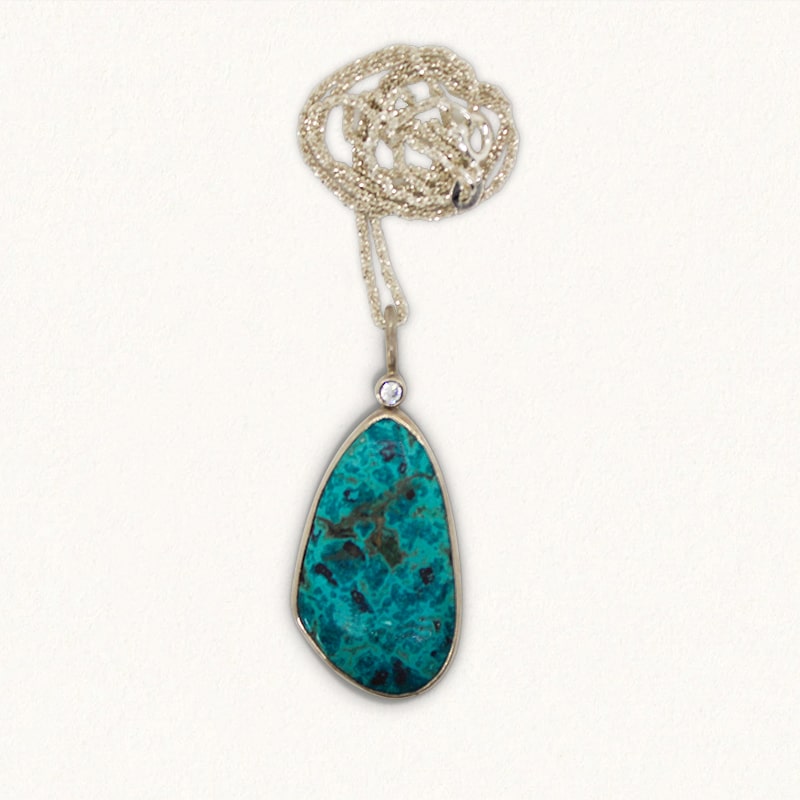 DROPLET NECKPIECE: Shattuckite Azurite & White Sapphire
Design:  Drops of magic accented with dewy silver bubble accents & a faceted gem centerpiece. An open back allows the stone to radiate against your skin.
Stone:  Natural untreated polished Shattuckite Azurite stone with a faceted White Sapphire gem.
Material:  Recycled Sterling Silver.
Length:  18" Sterling Silver chain.
ONE OF A KIND & HAND CRAFTED WITH LOVE
SHATTUCKITE AZURITE is an alchemy of Azurite, Chrysocolla, Malachite and sometimes Copper, in Quartz. With such a potent combination of stone energies its highly regarded to work in the realms of intuition, physic ability & heartfelt communication. This copper silicate offers up clarity of the mind, heart, and throat, creating an ever strong communication capability that push for one to seek and constantly speak the highest truth. When working with this mineral, one will become very in touch with their mind, body, and soul, almost feeling as though they are one complete being. Your senses will become enhanced and you'll begin to notice how much more you can feel. Messages from our spirit guides and angels come in in the from of imagery, feel, and synchronicity. All signs point to a life full of enhancement, happiness and intuitiveness leading to endless inner peace. Due to the vast amount of psychic capabilities Shattuckite can activate and unlock, it is widely popular for any medium, channeller, or scribe. 
All of the blues of the great Oceans are found within SAPPHIRE, so being drawn to this stone may be a sign you are being called to the cleansing energies of the ocean. It is one of the most famous gemstones on earth, sacred in many cultures around the world and one of the most revered 7 crystals of Lemuria. Sapphire carries one of the most calming & peaceful energies available in the mineral kingdom, and is the stone of spiritual truth. Truth is love and is acted on through the heart, with the clarity of wisdom. As a stone of higher communication it opens all of the communication centers, enabling psychic abilities, accurate intuition, and is a powerful stone of channelling. Through work with this stone, awareness of one's life purpose may present itself in such a way that the path to achieving it is made clear.