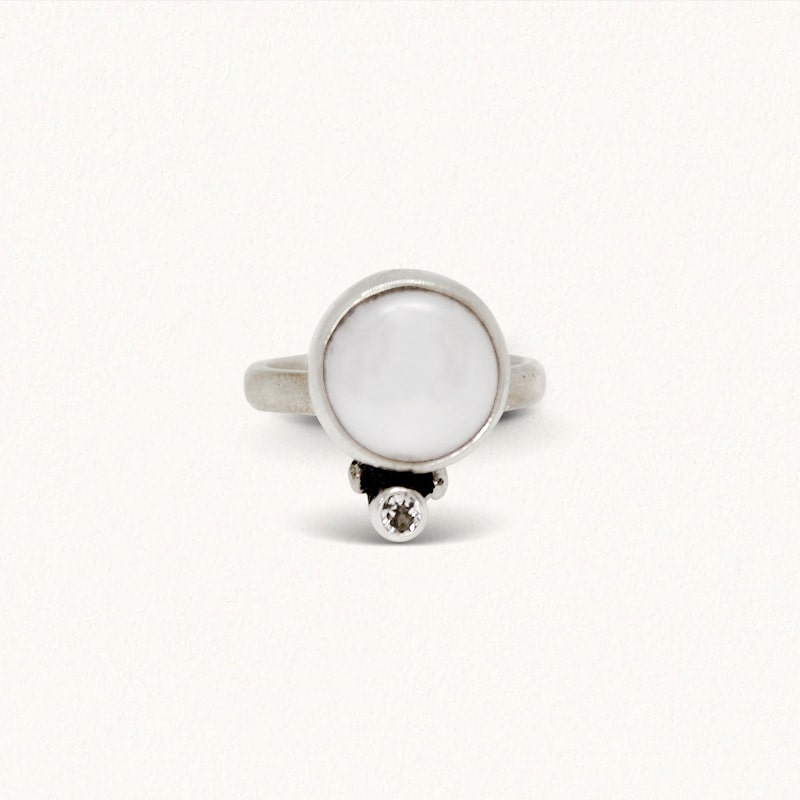 DROPLET RING: Freshwater Pearl & White Topaz
Design:  Beautiful freeform rings designed around the stone & accented with dewy silver drops & a faceted gem centerpiece.
Stone:  Natural Freshwater Pearl with a faceted White Topaz accent.
Material:  Sterling Silver.
Size:  7.5
ONE OF A KIND & HAND CRAFTED WITH LOVE
 Purity ~ Innocence ~ Feminine ~ The Moon ~ Nature's Cycles ~ Divine Beauty ~ Fertility ~ Motherhood ~ Children ~ Hormone Balance ~ Whales & Dolphins ~ Quan Yin
PEARLS are highly iridescent and lustrous holding the beauty of the moon & the water in their silvery shimmer. They represent the ultimate source of wisdom through experience & also are strongly connected to purity. As a stone of emotion, they assist us in revealing our innate Divine Beauty as we learn to embrace our emotional journey here on Earth as well as to spiritualise the emotions of the Heart Chakra (which we also need in this time on Earth). Pearl is also linked to Whales and Dolphins and Quan Yin.
Together with Moonstone and Silver, Pearl forms a Sacred Feminine Trinity that helps us to re-connect with our sacred feminine which may have been lost at any stage in our lives. Pearl can increase intuition and can be worked with to learn the spiritual basis of sexuality and sacred union. It helps to balance hormones and bring a woman into alignment with the moon's phases. In Atlantis, Pearl was a stone of childbirth.
 In Buddhism, 'Divine Pearl', is the 'mani' in the mantra "Om mani padme hum" -the "jewel that grants all desires". In ancient Vedic texts pearls are considered the 'Daughter of the Moon' - gifted by Krishna to his daughter on her wedding day after he plucked the first Pearl out of the ocean.