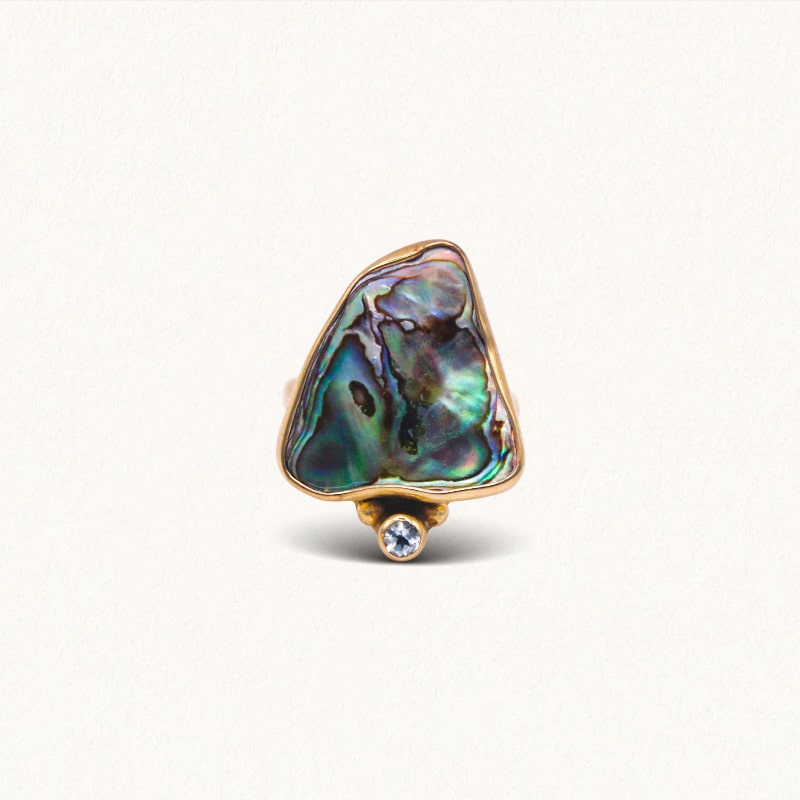 DROPLET RING: Paua Shell & Aquamarine
Design: Beautiful freeform rings designed around the stone & accented with dewy silver drops & a faceted gem centerpiece.
Stone:  Natural ethically sourced Paua Shell from NZ & a faceted Aquamarine accent. Our Paua Shell is sourced as a bi-product & would otherwise be considered wastage. Our heartfelt intention is to honour it's natural beauty.
Material:  24k Gold plated over Brass (no based metals).
Size:  6
ONE OF A KIND & HAND CRAFTED WITH LOVE
New Zealand PAUA SHELL'S mantra is 'The beauty of Life'. It's energy is of the divine feminine and is soothing, comforting, strengthening & heart opening. It's thought to give protection through the changes and transitions in life and encourages one to realise we come out more beautiful - just as the Paua's irredescent colours are revealed through being tumbled by the sand & ocean floor.
Its also considered a sacred shell and was once reserved only for the Maori Princesses. It represents 'whetu' or the stars of our ancestors watching over us.